Get the XtayPro app to experience more useful features!
The items are held by the customs, what should we do?
Before requesting or accepting to bring any item to another country, please make yourself familiar with the laws and regulations of all countries involved. Do not request or bring illegal goods and please abide by the laws. We will moderate each case personally and see if there is anything we can help you with.

What about taxes and customs fees?
You should take this into consideration when dealing with the other party. Normally, xtayers will take care of it and include these expenses into their service. The price that both sides agree upon when pressing the ACCEPT button should be the final price.

How can I know that they will give me genuine goods and not fake products from some country?
If you're asking them to purchase and ship for you, ask for the original receipt. Even before they travel to you, ask them to take a photo of the receipt after getting the item, preferably with their face in it. Make sure that the photo is sent within our app, or else we will not be able to help you in case of dispute. If you're asking them to ship an item to you without purchasing, ask someone to place a mark on the item somehow before they get it and check for this mark when you receive the item. Again, check their profiles and user rank first before dealing to make your life a bit easier! With our zero-tolerance policy towards fraud, we are bound to punish cheaters after just ONE violation.

I have mistakenly reported a transaction and/or another user. Is it bad?
*frowns* Hmm, we believe that it was not your intention to do so. However, please do understand that we treat false reports and fraud very seriously. If you continue to make the same mistake over and over again, we'll be forced to lock your account to protect the integrity of our community.

How do I get back the escrow amount?
If you are using our escrow service for the first time, after the transaction, we will contact you and ask for your bank account details to transfer back this amount. For further transactions from you, this process will happen automatically. You can also choose to receive cash if you come to our collection centers. We still prefer bank transfer though.

How exactly does the ESCROW method work?
It's simple: Both parties will deposit an amount of money into our bank accounts for safekeeping until the transaction is complete. It may be 20% or 100% of the item's value, depending on what you agree with each other. After the transaction has been carried out successfully, XtayPro will give the full amount back to both users, totally free of charge. When you transfer the deposit to us, please write the description according to this structure: Xtaypro TransactionID YourUserID. Click here to see our bank accounts.

How can I be sure that the other party is honest and will not cheat me?
Check their profiles to see how many transactions they have successfully carried out and what other users are talking about them. Also, honest users tend to write a decent self-introduction and are willing to share more about themselves. A good rule of thumb is to check their user rank; usually, a user of rank Gold is safe enough to do transactions with. This table shows how user ranks differ: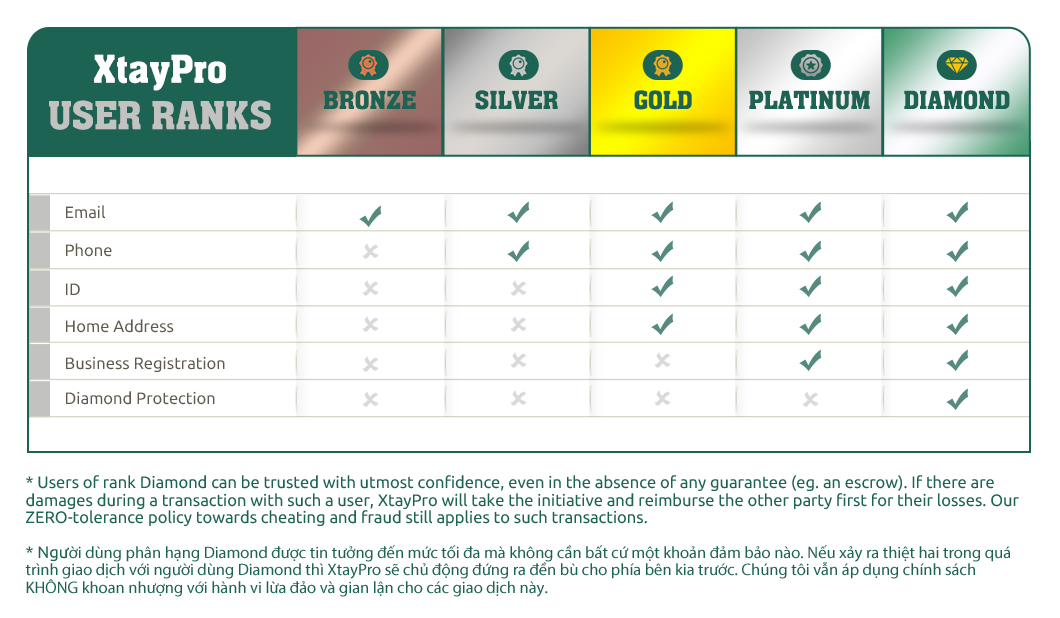 If you still want to be completely sure that nothing will go wrong, use our ESCROW service, which is described in details below.

Can we really negotiate the terms of a deal?
Of course, that's the essence of our service. You are free to negotiate the terms of each transaction before pressing the ACCEPT button. After both sides have accepted, you are obligated to keep your words!

Will I get penalized for finishing the business outside XtayPro?
Of course not. We've built this platform to help everyone get in touch and help each other, not to hoard users, since we will also use our own service. However, we strongly suggest that you complete your transactions using our service, because:
You will get a +1 in your profile after every successful transaction. Based on this rating, other users will be able to evaluate and choose to do business with you, and vice versa.
We will have the evidence to assist you in case of fraud or dispute. For how otherwise can we solve a case with only a chat log or a screenshot not from our system?
You can use our ESCROW service for your transactions in which we will temporarily hold an amount of money from one or both sides until the transaction is confirmed successful.

Can I use your service without any accounts at all?
Clicking on "Use without an account" enables you to view all content of our service. However, you will not be able to post anything or contact other users without actually logging in.

Do I have to register a new account?
You can also sign in using your Facebook account. We treat our users all the same.

Why can't I post new requests/offers or start a transaction with someone?
Please make sure that you have successfully activated your account by following the instructions sent to your email address.